Open main form of DAEMON Tools Net Data Server and go to the iSCSI Targets panel on the right lower pane. By default there isn't any iSCSI traget added to Data Server.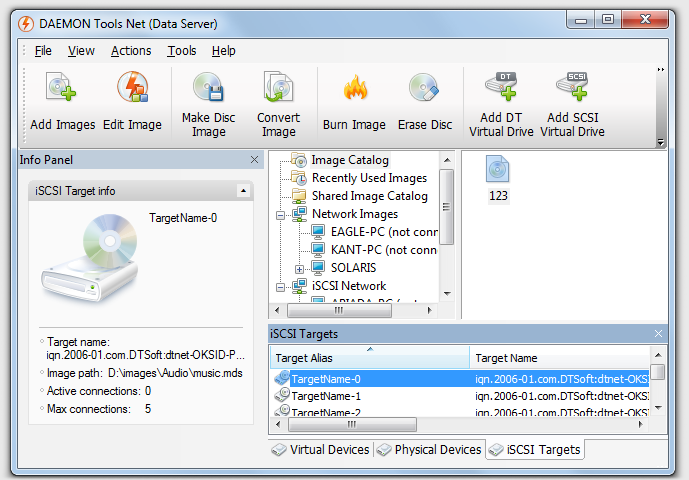 Via context menu of panel you can add new target. Select Add iSCSI Target menu item and look at targets list.
Target Alias — alias name for the target, by default TargetName-[target number]. For example: TargetName-0.
Target Name — full iSCSI target name according to iSCSI protocol specification. For example: iqn.2006-01.com.DTSoft:dtnet-WIN-TPLU1E175NN:TargetName-0.
Source — full path of disc image file mounted to target or drive letter of virtual/physical device which is shared through this target.
Active Connections — active connections counter.
Max Connections — displays number of maximum allowed connections to the target.
ISCSI Target context menu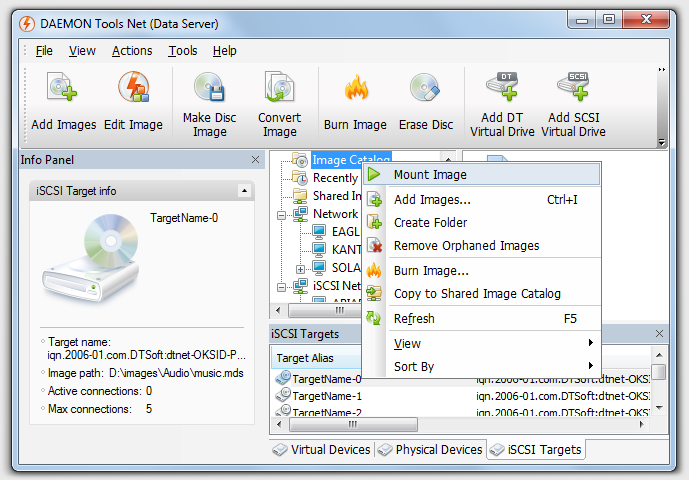 This menu contains following items:
Mount Image… — opens Open dialog to select disc image file for mounting.
Mount device… — opens Devices dialog to select device from the list which contains all physical and virtual CD/DVD devices.
Unmount — unmounts disc image or unshare virtual/physical drive from the selected target.
Add iSCSI Target — adds new empty iSCSI target to your Data Server.
Remove iSCSI Target — removes selected iSCSI target from the server.
View — allows to select view mode for the targets list:
Icons
List
Detalis
Sort By — allows to switch targets list sort order between Ascending and Descending modes.
Refresh — refreshs targets list and all targets information.
Device Parameters… — opens Device Parameters dialog for selected target.