It allows to change the following settings: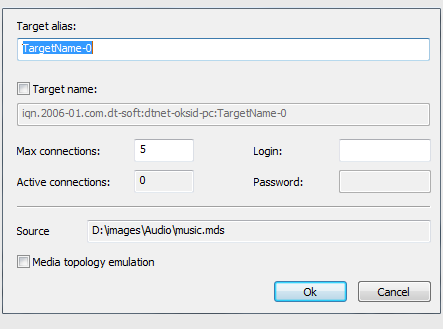 Target Alias — alias name for the target, by default TargetName-[target number]. For example: TargetName-0.
Target Name — full iSCSI target name according to iSCSI protocol specification. For example: iqn.2006-01.com.DTSoft:dtnet-WIN-TPLU1E175NN:TargetName-0.
Max connections — displays number of maximum allowed connections to the target.
Active Connections — active connections counter.
Login and Password — specifies user name and password to enable CHAP secret authentication for the target.
Source — displays full path of disc image file mounted to the target or drive letter of virtual\physical device which is shared through this target.
Media topology emulation — enables reading delays for the virtual drive due to physical topology information. It allows to emulate data reading operation more strictly. The option is supported for MDS/MDF or MDX disc images only.